Top 10 Places to See in Miami
Nestled in southeast Florida, Miami is known for its sunny weather, great beaches, and diverse culture. In the winter months when even California is struck by a chill tourist's flock to Miami seeking the year-round heat. It draws a mixture of tourists, seasonal residents, and permanent year-round residents. Due to its popularity and diverse population, there is a wide range of attractions for people living and visiting the area to see and do. While there are dozens of great attractions to see in Miami, let's look at the top ten things you do not want to miss.
Everglades National Park the Everglades is one of the most famous national parks in the country. It covers one and a half million acres of natural swampland. Many parts of the park are not often visited due to this swampland, though the park has set aside many great places to view this vast wilderness. The park is home to at least 15 animals that are either considered rare or endangered, including the American crocodile.
Zoo Miami is considered to be one of the best zoos in the country. It has over 700 hundred animals and prides itself on having cage-less exhibits throughout the park. The animals are grouped together by regions, such as Africa, Asia, and Australian, making a trip here a unique experience.
Seaquarium Miami is a popular attraction located on the island of Virginia Key just off the coast of Miami. It is home to various marine life, such as dolphins, whales, and tropical fish. Guests to the park can sign up for a special package allowing them to have an up-close experience with the dolphins.
South Beach is a must stop location if you are in the Miami area. It has everything you need for a day of fun in the sun, miles of sandy beaches, fantastic shopping boutiques, and an active nightlife. If you are looking for some fun, this is certainly the area of Miami to check out.
Vizcaya Estate and Gardens This grand estate was built in the early 1900s by millionaire James Deering. Today the stunning Renaissance-style mansion has been transformed into a museum and gardens. Its lavish architecture and beautiful décor are certainly worth the trip to see.
Jungle Island This unique attraction gives guests the opportunity to see a variety of animals up close and personal. This interactive park includes animals like lemurs, macaws, and monkeys. This park is perfect for both young and old and is great for families.
Miami Children's Museum This museum is geared toward children but perfect for people of all ages. It includes various interactive exhibits where children are encouraged to learn through play and expand their imagination and creativity.
Museum of Science If you are fascinated by science, this is the right place for you to visit! It includes the Bird of Prey Research Center, as well as the Weintraub Observatory. A trip through this museum will take you through dozens of exhibits and teach you about hurricanes, birds, energy, marine life and more.
Shopping in Miami If shopping is one of your favorite things to do, Miami is the right location for you. Some of the top leading brands can be found in Miami, as you shop at the Village of Merrick Park mall, the Aventura Mall, or the Lincoln Road Mall. Do not be surprised if you run into one of Hollywood top stars shopping in the same area.
The Beach, Of course, you cannot make a trip to Miami without spending some time on Miami's world-famous beaches. Since residents here see year-round great temperatures, the beach never shuts down and the water is always warm. Whether you enjoy surfing, beach volleyball or just a walk along the beach, you will not be disappointed with a trip to Miami's finest beaches.
Miami attracts people from around the world, and with good reason! Whether you're considering moving to the area or just looking for a great place to relax, Miami offers all the amenities. The Miami real estate industry is a fast-moving market, so it is important you find an experienced real estate agent who can work with you to find the right home or condominium for you.
A Yacht Charter in Croatia
The seas around the region and the weather make shooting a holiday charter in Croatia ideal for nearly the whole calendar year. Insular Croatia is made up of over one thousand islands. Sailing the seas around the islands will provide you the chance to view many terrific sights.
All these are fantastic waters for diving and snorkeling trips. The very best method for one to have to do all these things would be to go right ahead and employ a boat to direct you to the island that you need to research. If you are planning a trip to Croatia then go for skippered yacht charter Croatia or Sailing in Croatia with skipper with reasonable prices.
You might preferably use the engine boat for you to another island to pay the afternoon. Whenever you're employing water craft you can personalize your holiday activities. While visit the region around Croatia you'll most likely like a yacht charter in Bio grad.
There are a lot of websites around Bio grad you are going to want to experience when you're visiting. You will find amazing websites to go to within this region, and it's well worth drifting for a day excursion. You might even be enamored with all the beauty which you select to stay more.1 thing that you don't wish to miss as you're you will find the lakes.
You could come across vessels for rent in several distinct sizes and styles. That means that you may customize the actions which you need to take part in. You'll have the ability to employ motor driven boats which may take you quickly into portions of those islands where you might desire to take part in diving activities.
Northern Thailand – Chiang Mai Tour
Chiang Mai has a very long history and has long been around since the 13th century to place it in to context. You may even taste the local cuisine in the in numerous pubs and bars along the streets of Chiang Mai.  Obviously, no vacation to Thailand would be complete without a thrilling night out.
Chiang Mai has a great deal to offer concerning nightlife. in China. The town has a moat and a wall round it that was assembled from the Lanna Thai kingdom to shield it by the invading Burmese armies that had been continuously raid the town. If you're arranging a trip to Northern Thailand, then you can arrange customized tour Chiang Mai on your schedule.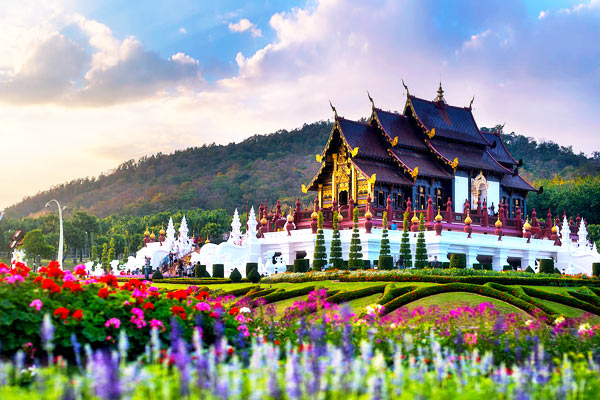 This is when the weather Chiang Mai is trendy and you'll have the ability to enjoy the town and its attractiveness.   Nowadays, however sexy, won't make a dent on your finances since most hotels, restaurants and other places of tourist attractions don't charge a great deal.
Attempt not to visit Chiang Mai in April and May because both of these weeks will be the most popular period of year.No vacation in Thailand is complete without visits to the Buddhist temples. Chiang Mai isn't any different.  It's lots of Buddhist temples to select from.
You are able to respect the marvel of classic Thai structure in Wat Phra Singh or you'll be able to go to Wat Suan Dok, the 14th century tradition that's the website of major monastic universities. Chiang Mai has several hot springs and you're able to unwind and rejuvenate yourself with a vitamin tub or even a traditional Thai massage.
Music Is Of Much Help In Meditation
Courtesy-thecultureconcept
Meditation is one of the healing source and people are gaining awareness regarding the benefit of meditation. Meditation does the miracles and this is the reason that people are learning to mediate.Meditation requires deep concentration and one needs to concentrate on inner self. Music is of much help in making the person do deep level meditation.Flute music is much recommended for meditation because of the benefits it serves.
Stress Reduction: Stress get reduced by adding music in meditation, people do meditation at much deeper level by adding music in meditation. Music make the people feel relaxed and this reduces stress. Flute music helps the person in feeling relaxed.
Deep Meditation: Meditation requires concentration and this is the reason that people do put their best efforts in improving their concentration power so that they can meditate deeply. Flute music is of much help in going deep while meditating. French flute music has gained popularity in recent years and people meditate at much deeper level through flute music.
Helpful In Studies: Studies need high level concentration and people do put their efforts in concentrating deeply. Meditation is of much help in increasing the concentration level for studies and students do take help of flute music in going for deeper level of meditation so that they can concentrate well in studies. French flute music helps in meditation and people are inclining towards French flute music because of the benefits it serves.